OPEN DAY 2022
THERE'S SOMETHING FOR EVERYONE AT ENMORE PARK. JOIN US FOR OUR OPEN DAY ON SUNDAY 20TH MARCH 2022.
Our message remains "Something for Everyone" and we really do mean it. Men and women, young, old and all ages in between. Maybe you've never picked up a golf club in your life, maybe you're thinking of taking up the game after a break, well we'd love to meet you on our Open Day.
So come along on Sunday 20th March any time between 10:30am and 2:30pm and meet the team, the members, the club professionals and take a look at what's on offer. You'll get the chance to play a few holes, enjoy some drinks and nibbles, and ask any questions you might have about our club or golf in general.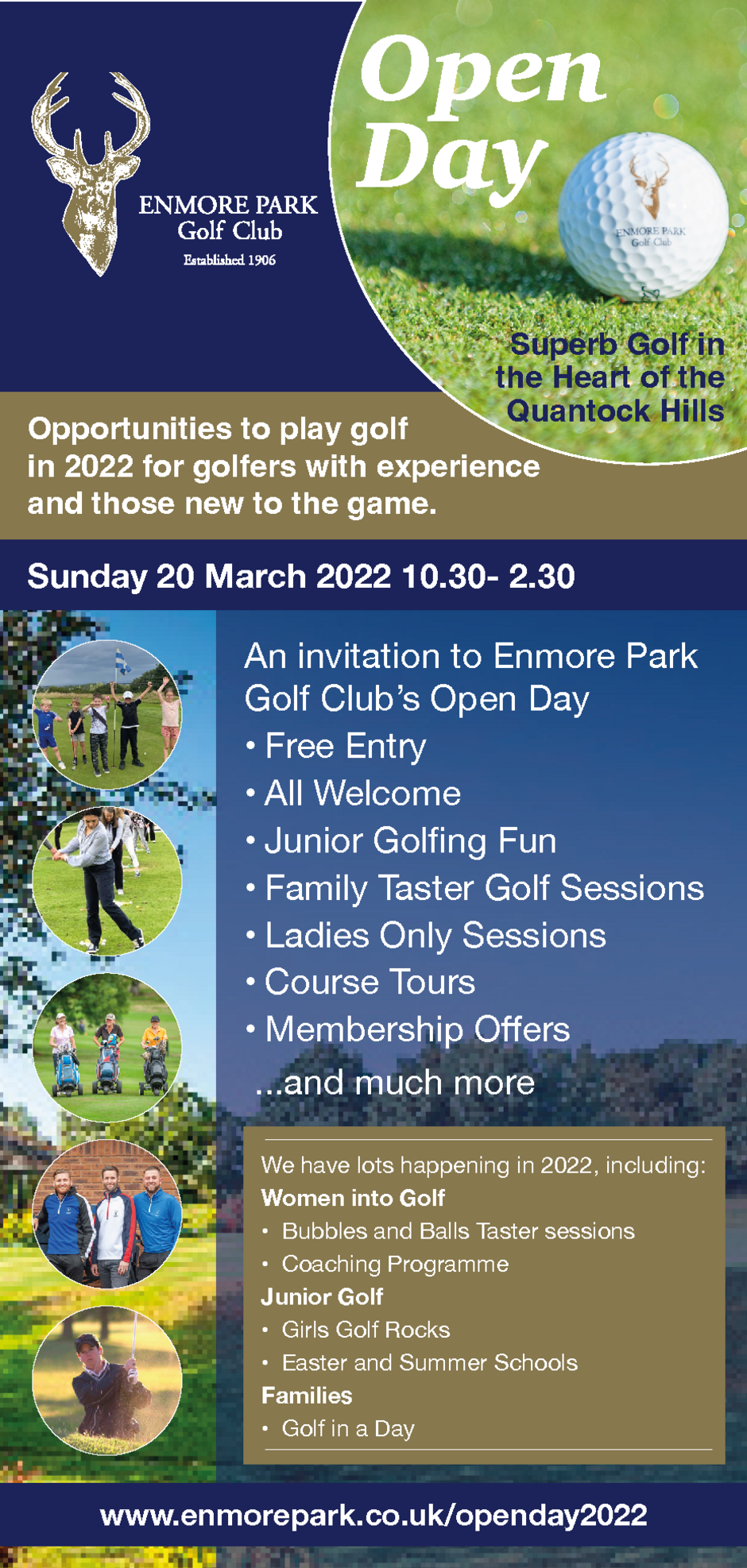 The Schedule
Follow this link download our Open Day flyer, which includes the full schedule for the day. There will be some special membership offers available, and this will be a very informal event for everyone to enjoy, there certainly won't be any pressure to join the club.
Junior Golf
We're very keen on encouraging juniors to take up the game of golf and our "Try Golf" sessions and games that takes place from 10:30am to 12:30am. All equipment, plus a whole heap of help and encouragement will be provided. Mums and Dads are welcome to relax in the clubhouse during the session, safe in the knowledge that their little Tigers are in good hands.
Registration
There's no need to register, you're welcome to just come along on the day, at whatever time you'd like. However, if you think you'll be coming along then a short email to the address below will help us gauge an idea of numbers.
If you'd like to know a bit more the just give the club a call on 01278 672100 (option 4) or email the club office on secretary@enmorepark.co.uk