THE 2020 PRO-AM AT ENMORE PARK
Following a hugely successful event in 2019, the first Pro-Am at Enmore Park for 15 years, we're pleased to confirm that we'll be doing it all again in 2020.​
Taking place on Friday 18th September we'll be repeating all that made the 2019 event so great, and adding a few more touches to make the 2020 version even better.
Team Entry - Standard Package
Teams will consist of a PGA Professional plus three amateur players and there are two entry options. The first is our standard package costing £280.00 per team. The price includes the following:
Team entry for three amateur golfers to play with a PGA Professional
Tea/Coffee and Bacon Roll on arrival
Running buffet from midday onwards
A spot prize on EVERY hole
Overall prizes for the top five teams
On-course refreshments including savoury snacks, real ales, gin & tonics and more...
Team Entry - Corporate Package
Our corporate package cost £395.00 including VAT per team. The price includes hole sponsorship, allowing businesses to place banners/flags on the tee and around the green as required. We will purchase a prize to the value of £50.00 on your behalf.
Includes everything in the standard package above.
Sponsor a hole of your choice on a first come/first served basis.
We will provide a hole spot prize to the value of £50.00 on your behalf
Feature on our club website.
Feature in our Pro-Am programme and other advertising.
Appear on Enmore Park's social media in the run up to the event and also on the day.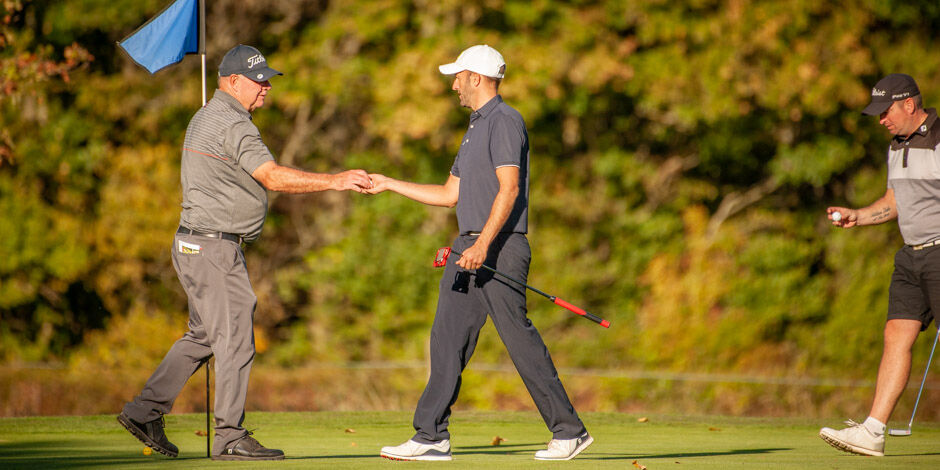 Event and Prize Sponsorship
If you'd like to be involved with the 2020 Pro-Am, but not enter a team, then we welcome enquiries from anyone who would like to sponsor a hole and/or prize. You'll enjoy all the benefits of the corporate package other than the team entry. Just call the club office on 01278 672100 (option 4).
The Competition Format
18 Hole Bowmaker
Teams of four with two stableford scores to count on each hole.
Maximum handicap on entry of 28 (men) and 36 (women)
90% handicap allowance
Individual competition for the Professional
How to Enter
Our preferred method of entry is online via our open competitions page, simply follow this link. The other option is just to give us a call on 01278 672100 (option 4) during office hours and we'll take your details and payment over the phone. We'll also give you a choice of tee times.
If you have a preferred professional to join your team please let us know, we work closely with the PGA to accommodate these requests.
Booking early gives the best chance of your choice of tee time.
Prizes and Spot Prizes
In addition to the overall prizes we're aiming to have a prize to be won on every hole. We'll have the prize list published around 1st September.
Questions?
We're here to help. Just email Steve Olive - secretary@enmorepark.co.uk or call the club office on 01278 672100.