golf lessons and club fitting
LEARN TO PLAY OR IMPROVE GOLF - OUR TEAM OF PROFESSIONALS ARE READY TO HELP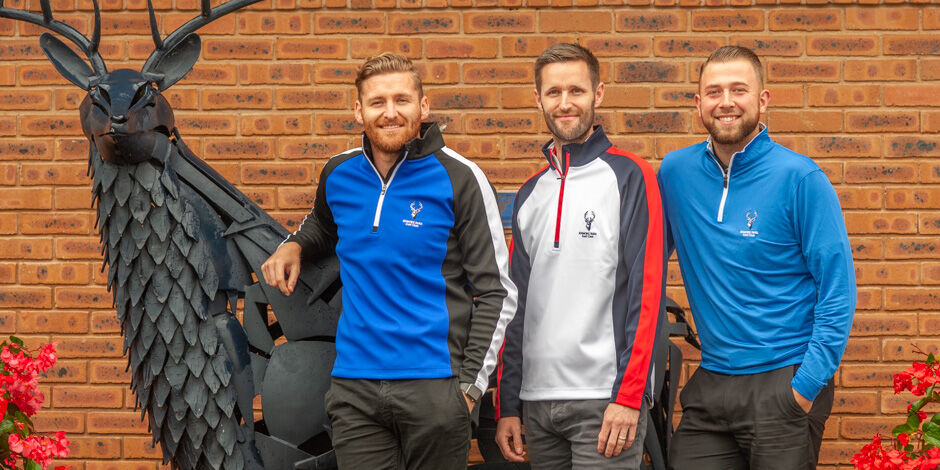 The Pro-Shop Team, Alex Clapp (Assistant Pro), Barry Forster (Head Pro) and Harry Brown (Assistant Pro)
Whether you're new to the game, looking to get down to single figures, or already a low handicap golfer we can help improve your game. Lessons are available from all three of our professionals, with prices shown below.
To book just give us a call on 01278 672100 option 3 or just visit the shop.
Lesson Prices:


30 Minute Lesson
60 minute Lesson
90 Minute Playing Lesson
Barry Forster
£25.00
£45.00
£70.00
Harry Brown
£25.00
£45.00
£65.00
Alex Clapp

prices available

on enquiry

prices available

on enquiry

prices available

on enquiry

Other lesson options are available including longer playing lessons and lesson packages. Just call into the Pro-shop to discuss your requirements.
The Swing Studio
Want to see your game in more detail? Our GC Quad captures all the numbers you need to know to help you improve your game. Book your slot in the studio today and see your game as you've never seen it before.
Ladies Group Lessons
Join the ladies on Tuesday mornings, with three group sessions. The price is just £8.00 per person booked through the pro shop.
Juniors Group Lessons: Every Saturday
9:00am -10:00am beginners, 10.30am – 11.30am improvers: £5.00 per person.


Club Fitting
Having clubs that are correctly fitted is crucial if you want to get the best out of your game. Whether you are a beginner or seasoned player it's important that the tools you use are not only correctly fitted to your height, swing speed, and swing but also the set make-up of your bag. We want to make sure that every club in your bag is utilised for optimum performance. Fittings are priced at just £30.
Have a chat with us for more details on how we can help you with your game.