Social Events at enmore park
To buy tickets for club events please email Steve Darch: bar@enmorepark.co.uk or call the club on 01278 672100 - Alternatively many of our events have online booking, just look out for the "Buy Tickets Online" link.
Important: We don't charge a booking fee for online bookings so the price you'll pay online is the same price that you'll pay at the club.
EVENTS IN 2020
January
Saturday January 25th - Burns Night
Our first major social event of the year, a traditional Burns Night supper. Tickets cost £17.50pp from the bar.
February
Saturday February 15th - Valentines Meal & Live Music from Gemma Louise Doyle
March
Saturday March 21st - Mission Blue Motown Night
April
Saturday April 18th - Fab 60's & 70's Band
May
Saturday May 23rd - Rod Stewart and Tina Turner Tribute Night
June
Saturday June 13th - Captain's Day plus Live Music from The Blues Brothers
Saturday June 27th - Enmore Party in The Park - Elite Elton, Man from Funkle, The Haus Band
July
Saturday July 24th - Beach Boys Tribute Act
August
Saturday August 8th - Captains Day – Live Music
Friday August 21st - Simply Red Tribute Band
September
Saturday September 26th - 'Allo Allo Comedy Dining
October
Saturday October 24th - "Night at the Movies"
November
Saturday November 21st - Bee Gees Tribute Act
December
Thursday December 31st - New Years Eve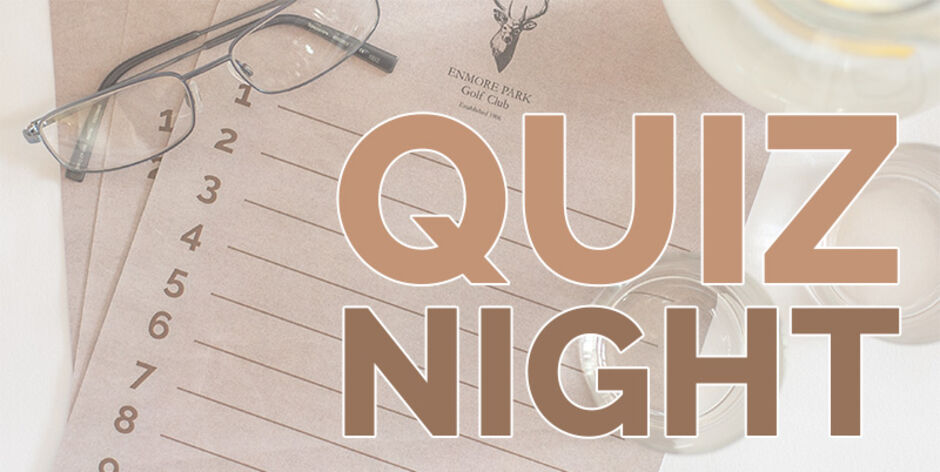 QUIZ NIGHTS AT ENMORE PARK in 2020
Our ever-popular quiz nights continue during 2020. Entry costs £36.00 for a team of four, to include supper. The quiz starts at 7:30pm so we recommend you arrive around 7:15pm. Dates are as follows and we do recommend booking in advance. To do so just call the clubhouse or sign the entry sheet at the clubhouse entrance:
January
Thursday 16th
February
Thursday 20th
March
Thursday 19th
April
Thursday 16th
October
Thursday 15th
November
Thursday 19th
December
Thursday 17th